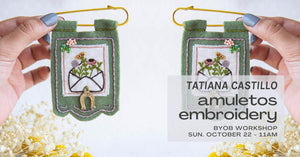 Amuletos Embroidery Workshop - October 22
Join Tatiana Castillo while she's visiting Chicago and hosting three unique workshops at Indigo & Violet Studio!
Meet Tatiana Castillo, Colombian textile artist, embroidery tutor, and author! We're thrilled to have her teaching at the studio while she's in Chicago! If this date doesn't line up make sure to check out her October 20th and 21st workshop dates.
The amulet is an element present in many cultures and refers to small objects that bring us good fortune and protection. Being embroidered with our hands, these will have the energy and DNA of each one of us woven into it.
In this workshop, students will learn to use different stitches and materials applied to wool fabric to create a meaningful and unique amulet piece. Wool fabric, two embroidery needles, a variety of different yarns and accessories to select from, and instruction handout will be included. Scroll down to see more samples of Tatiana's work and patterns!
No prior embroidery experience is required. BYOB drinks and snacks are always welcome! Share this link with friends and family and make a creative evening of it!
Sunday, October 22, 11am-1pm at Indigo & Violet Studio - 1411 W. Irving Park Rd. Chicago, IL
More info + protocols:
BYOB snacks, beer, and wine welcome
Up to 18 tickets available - all guests should purchase a ticket to attend
We will follow local safety mandates at the time of the event - masks are not currently required
Please let us know in the notes of your order how many are in your party if a friend is signing up separately - we'll adjust seating and spacing ahead of time
Meet Tatiana Castillo - Colombian textile artist, embroidery tutor, and author based at her studio in Bogotá, Colombia. Her main creative interest lies in finding the dialogue between fabrics, traditional Latin American embroideries, and the female body. Exploring the connection between popular art iconographies in different communities and female identities. This interest has led to exhibitions in Seattle (USA), Mexico City, and Tel Aviv (Israel), the latter winning an honorable mention at the Photo IS:RAEL 2020 festival. She has been an arduous researcher on traditional embroidery techniques from Latin America.
She has given lectures on embroidery in different museums and cultural organizations in Colombia and Mexico City since 2015. She ́s part of the virtual educational platform Crehana as a teacher.
Her first book Agujas, puntadas y secretos was published by Editorial Planeta in October 2022.
By registering for any event at indigo & violet studio you acknowledge that you have read and agree to our BYOB Disclaimer and the terms of service located 
here.