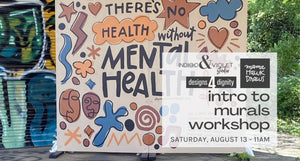 Intro to Murals Workshop - August 13
We're excited to host Mama Hawk Draws while she's in Chicago for a Mural Painting Workshop!!
Murals, they're popping up everywhere! And if you've ever wondered how the heck to create one, this is the workshop for you!
Join Mama Hawk Draws to learn the ins and outs of designing and painting a mural. You'll learn about all the supplies you'll need for a project, how to apply your digital design to any wall, tips and tricks to painting on different surfaces, plus how to price for walls, insurance, and so much more! 
Space is limited to 10 attendees to ensure there is time for personal instruction while we paint and install a mural with a mental health theme in conjunction with Designs for Dignity and Good News Partners. We'll paint on several plywood panels and install the completed mural in one of their recent non-profit projects.
Are you a designer looking to add murals to your services?! Looking to add a mural to your own home or office?! Love Designs for Dignity and want to offer murals to other great causes?! The class will be great for beginners, yet all skill levels are welcome. No prior experience is necessary!
Please note: You might get a bit messy while we create the mural, so please dress appropriately. We'll have aprons available.
Saturday, August 13 - 11am-1pm at Indigo & Violet Studio - 1411 W. Irving Park Rd.
Safety protocols:
We will follow local safety mandates at the time of the event - masks recommended but not currently required 
Up to 10 tickets available - all guests should purchase a ticket to attend
About Mama Hawk Draws:
Erin Hawkins, aka Mama Hawk, is a graphic designer and artist who specializes in hand lettering and murals. Using mixed media and her fun, quirky vision, Erin works with clients to figure out the best way to tell their story, no matter how big or small.
Based in Macon, Georgia, Erin believes in the importance of community and finding the good in life. A small business owner herself, Erin has a special interest in supporting other women in work and play. And as a mom, she is passionate about exposing kids to art and how they can use it to impact their lives and society.

She shares her lettering work, including logos, murals, and products, on her Instagram, @mamahawkdraws.
By registering for any event at indigo & violet studio you acknowledge that you have read and agree to our BYOB Disclaimer and the terms of service located 
here.