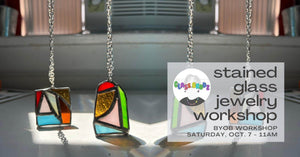 Stained Glass Jewelry Workshop - October 7
Join us for an intro to stained glass jewelry with Molly of Glass.Brodz!!!
For this build-your-own jewelry workshop, attendees will be given a demo of each step of the stained glass-making process. They will see the process Molly uses to create stained glass jewelry; then they will get to pick through bins of colored stained glass pieces, draw on the design of jewelry they'd like to have created, and try out cutting the glass!
Molly will take these orders back to their studio after the event and bring these designs to life. During the event, Molly will also have larger window hanging pieces for sale or browsing wishes. They are also happy to answer any questions folks may have about the process/artistry and custom commissions!
This class will show you the basics of stained glass and let you customize your own 3 charms. Charms can be turned into earrings, pendants, keychains, hair charms, body chains, stud earrings, or phone charms! Additional charms can be added for $6/charm with up to 5 extra or 8 total per person. Please let us know of any metal allergies/sensitivities with your order.

Please note: jewelry will be soldered and completed by Molly and take approx. 2-3 weeks after our workshop date. Free pickup at Indigo & Violet Studio or flat-rate shipping is available at checkout.
Saturday, October 7 at 11am-1pm @ Indigo & Violet Studio - 1411 W. Irving Park Rd.
More info + protocols:
BYOB beer, wine, and snacks welcome
Up to 15 tickets available to allow for hands-on help
Let us know how many are in your party if signing up separately - we'll adjust seating and spacing ahead of time
We will follow local safety mandates at the time of the event - masks are not currently required
Meet our instructor: Molly Brodzeller of Glass.Brodz
Molly Brodzeller is a stained glass artist living in Ravenswood, originally from Indianapolis, IN. They attended Indiana University and picked up the art again once the pandemic began. After learning in high school, Molly knew they would come back to stained glass eventually - and with more time at home - they felt excited to get their hands on more glass!
Check out some of their online shop and recent commission work here, and be sure to say hi on Instagram!
By registering for any event at indigo & violet studio you acknowledge that you have read and agree to our BYOB Disclaimer and the terms of service located 
here.