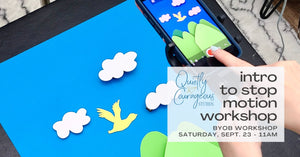 Stop Motion Workshop - Sept 23
Join us for an intro to stop-motion animation with Lori of Quietly Courageous Studios!
Have you ever wanted to learn how to make your very own stop motion videos using only your smartphone?

In this workshop, stop motion artist Lori Fimoff will walk you through the entire process, from developing concepts to shooting to editing your final videos!
Perfect for beginners, this class will teach you the basics of stop motion and will even get into some more advanced techniques. You'll shoot 3 guided videos from start to finish and then have the remaining time to unleash your creativity while you practice your new skills.

This workshop is great for product photographers and small business owners looking to up their content game and anyone who wants to learn a new skill just for fun! You'll leave feeling confident about creating stop-motion videos on your own moving forward. You'll learn:
Lori's best tips to get set up for stop motion success

How to tell a story by shooting your video backwards (this is a sneaky trick that works so well!)

What replacement animation is and when to use it
*Tripods and all other materials will be available for use during class. All you'll need is your fully-charged smartphone! We'll be using the Stop Motion Studio app (it's free!), so feel free to download it before class. And if you have something specific you'd like to animate, you're welcome to bring it along!
Saturday, September 23 at 11am-1pm @ Indigo & Violet Studio - 1411 W. Irving Park Rd.
More info + protocols:
BYOB beer, wine, and snacks welcome
Up to 15 tickets available to allow for hands-on help
Let us know how many are in your party if signing up separately - we'll adjust seating and spacing ahead of time
We will follow local safety mandates at the time of the event - masks are not currently required
Meet our instructor: Lori Fimoff
Lori is a Chicago-based stop motion artist and instructor who loves to spread some photo magic wherever she goes. With over 10 years of experience, Lori specializes in creating colorful, captivating content for mission-driven brands and non-profits through her company Quietly Courageous Studios.
When not intricately moving objects frame-by-frame for clients, you can find Lori teaching stop-motion workshops at conferences, team-building events, schools, and elsewhere throughout her community. Check out some of her recent work here, and be sure to say hi on Instagram!
By registering for any event at indigo & violet studio you acknowledge that you have read and agree to our BYOB Disclaimer and the terms of service located 
here.