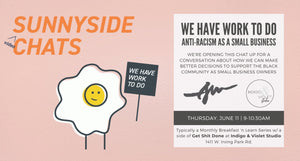 Sunnyside Chats : Virtual Chat - June 11
Rise and shine on the sunny side! We have work to do.
As small businesses, we have platforms and purchasing power that we can use to be actively anti-racist. But what does that look like going forward beyond posting on social media? We have to start somewhere so we're opening up this chat to share resources, ideas, and actionable steps for small businesses going forward.
We acknowledge that we are a small business group organized by two white women and we have work to do. Our goal for this chat is to come together as a group and discuss where we are right now and how we can make more conscious decisions to be more supportive of our Black fellow business owners and colleagues. We won't have a speaker but a roundtable format. Each attendee will be given time to introduce themselves and share something that answers one or more of these questions:
how is your supply chain supportive of Black-owned businesses and in alignment with your values? if it's not, how can you make a change?
how is your social presence / messaging inclusive of Black colleagues and customers? how can you make changes?
what anti-racism resource have you found that you'd like to share?
what resources are you looking for?
100% of ticket sales for this virtual chat will go to the For My Block Small Business Relief Fund. Our plan is to keep virtual chats coming every two weeks on Thursdays with rotating topics and causes.

Thursday, June 11 - 9am-10:30am via ZOOM call - link will be sent out on the 10th
What's included - what should I bring?!
$10 ticket includes virtual call and 100% donation to the My Block My Hood My City Small Business Relief Fund via formyblock.org
BYO-coffee and breakfast - consider supporting a Black-owned restaurant this week if you can
Bring a notebook and charged laptop to join the video call and take notes

Limited seats available to ensure we can hear from everyone
What makes this different than another business workshop?!

 

Action and accountability.

 

How many times have you attended a great workshop only to get distracted and baffled when you try to apply what you learned to your own business?! Not here - we're here to

 

Get Shit Done. Sunnyside Chats is co-hosted by Andi Mints Design and Indigo & Violet Studio. 
TICKETS ARE NON-REFUNDABLE BUT TRANSFERRABLE TO A FRIEND. BY REGISTERING FOR ANY EVENT AT INDIGO & VIOLET STUDIO YOU ACKNOWLEDGE THAT YOU HAVE READ AND AGREE TO OUR BYOB DISCLAIMER AND THE TERMS OF SERVICE LOCATED 

HERE.