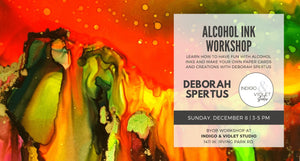 Alcohol Ink Workshop - Dec. 8
Join Debby Spertus for an afternoon of fun with alcohol inks and make your own paper cards and creations!
During this 2-hour workshop at Indigo & Violet Studio, students will learn basic alcohol ink techniques. After a brief introduction and demonstration, students will have a chance to experiment with the inks to create their own unique colorful artworks. Students will be encouraged to create multiple pieces on specialty paper - which can be turned into one-of-a-kind cards this holiday season. We will also provide a mat and backing board for your favorite piece.
These classes are for ALL LEVELS. We really mean that! Everyone is a beginner the first time they use the inks.
Sunday, December 8, 2019 - 3-5pm at Indigo & Violet Studio - 1411 W. Irving Park Rd. Chicago, IL
What's included: 
Hands-on instruction and all materials will be provided
Materials include alcohol inks, extenders, specialty papers, and a variety of tools for creative expression
A mat and backing board to display one of your pieces
A handout summary of all the information discussed
Bring a bottle of wine or bubbly to enjoy during this BYOB workshop! Glasses and corkscrews will be provided.
Meet the Artist: Debby has been a working artist for most of her adult life.  She began as a realist painter, then worked as a Mural Artist and Faux Finisher for about 10 years. Now she has a studio in Lincoln Square. Her current interests are alcohol ink and verre églomisé (reverse gilded glass). You can find her at www.spertusstudios.com or on Instagram @spertusstudios.
Tickets are non-refundable. By registering for any event at indigo & violet studio you acknowledge that you have read and agree to our BYOB Disclaimer and the terms of service located here.