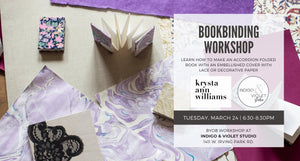 Bookbinding Workshop - March 24
Join us for a BYOB bookbinding workshop with Krysta Ann Williams at Indigo & Violet Studio!
In this 2-hour workshop, you will learn how to make a 4x5 accordion-folded book with an embellished cover.  Krysta will teach the basic principals of bookbinding, then teach the step by step process to creating your own small book.
You will be able to use your book to make notes, sketch, hold photos, or set up to display on a desk or shelf.  All materials will be pre-cut, so you're free to focus on the creative part! This project is great for those that enjoy hand-lettering and bullet journaling.No experience required - share this link with your friends and don't forget to bring drinks to enjoy during this BYOB class.
Tuesday, March 24, 2020 - 6:30-8:30pm at Indigo & Violet Studio - 1411 W. Irving Park Rd. Chicago, IL
What's included:
pre-cut book board & book cloth

lace for embellishments
variety of handmade and decorative papers
range of paper options for the text block to accommodate different uses of the final book
book inspiration, hands-on instruction, and all tools will be provided
bring a bottle of wine or bubbly to enjoy during this BYOB workshop! glasses and corkscrews will be provided
Meet Krysta:
Krysta Ann Williams is an artist working in photography and bookbinding. She has lived and worked in Chicago since 2003 and takes much inspiration from the complexity, diversity, and beauty of the city. Krysta's earliest memories in life involve paper, glue, and dunking graham crackers in coffee at her grandparents' kitchen table, she has been prioritizing crafts and snacks in her life ever since.
By registering for any event at indigo & violet studio you acknowledge that you have read and agree to our BYOB Disclaimer and the terms of service located 
here.