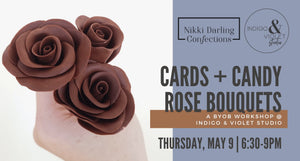 Cards + Candy Rose Bouquets with Nikki Darling Confections - May 9
What could be sweeter than a bouquet of chocolate candy roses and a handmade card this Mother's Day?!
Join us for this delicious collaboration with Nikki Darling Confections at Indigo & Violet Studio! First, we'll learn how to mold your own bouquet of edible roses out of handcrafted, small-batch chocolate candy, then we'll craft a set of embossed cards just in time for Mother's Day!
Workshop tickets make great gifts and so will the treats that you'll leave with if Mom can't make it. Bring your sister, your friends, and your mom friends for a fun evening of crafts + candy. This workshop is BYOB - so bring a bottle of wine or bubbly to sweeten the evening!
Thursday, May 9 - 6:30 - 9pm @ Indigo & Violet Studio - 1411 W. Irving Park Rd.
What's included (hint- it's everything but the wine):
An assortment of chocolate chews to make a dozen candy roses/person
Ribbon to bundle up your sweet bouquet to make the perfect gift
Stamps, heat embossing materials, washi tape, and card supplies
Bring a friend and a bottle of wine or bubbly to enjoy during this BYOB workshop
About Nikki Darling Confections: 
Nikki Darling Confections is a boutique candy company owned and operated by Evan Coben. Her lifelong passion for candy led her to culinary school and has since blossomed into a growing small business in Chicago. Her knowledge of food science and confectionery arts has allowed her to recreate her favorite classic American candy with a handmade touch. Each batch of specialty candy is handcrafted, from caramels to marshmallows to chewy candy. Once the batch of candy is firm, it is then cut, wrapped, and packaged by hand in Chicago. A true labor of love!
By registering for any event at indigo & violet studio you acknowledge that you have read and agree to our BYOB Disclaimer and the terms of service located 
here.