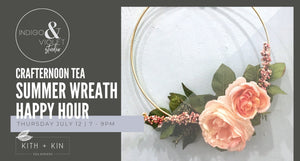 Crafternoon Tea | Summer Wreaths - July 12
Announcing our next collaboration with Kith + Kin - we call this one crafternoon tea happy hour!
We're excited to partner with Kith + Kin to host a mini tea party while we create minimalist summer wreaths. These modern decorations will brighten up your day and impress your guests when you say "I made this!" Use them indoors or out to make the neighbors jealous! No experience required - we will provide hands-on instruction and inspiration as well as all materials, tools, and glasses. Guests may bring wine, beer, or bubbly to enjoy during this BYOB class. 
Date: Thursday, July 12 - 7-9pm
Location: Indigo & Violet Studio - 1411 W. Irving Park Rd. Chicago, IL 60613
Workshop includes the following:
tea + light bites
metal rings
silk flowers
craft accessories - wire, string, yarn, beads, feathers, and ribbon
By registering for any event at indigo & violet studio you acknowledge that you have read and agree to our BYOB Disclaimer and the terms of service located 
here.