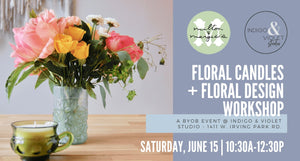 Floral Candles + Floral Design Workshop - June 15
Join local candlemaker Milton and Margie's Candles for a candle + floral design workshop at Indigo & Violet Studio.
Transform a vintage mug into an adorable floral-scented soy candle! You'll learn everything you need to know to make soy candles, including the scent-creation process. To complement your floral arrangement, we'll teach you how to create your own dreamy floral fragrance from a blend of soy-based oils. While our candles are hardening we'll create fresh floral arrangements and you'll learn the basics of floral design, color, texture, and composition - plus tips on how to keep your flowers fresher longer!
.
All supplies are provided, including soy wax, fragrance oils, and vintage mugs (feel free to bring your own vintage piece if you have something you love!) No experience required - we will provide hands-on instruction and fragrance suggestions. Event is BYOB if you'd like to get the creative juices flowing - glasses + corkscrews will be provided.
.
Saturday, June 15 - 10:30-12:30pm Indigo & Violet Studio - 1411 W. Irving Park Rd. Chicago, IL 60613
What's included with every ticket (hint - it's everything but the wine:)
All materials for 1 - 16 oz. soy candle 
Bring your own container(s) for the 16 oz. of wax or use one from Milton & Margie's at no additional cost. (For reference, 16 oz. of wax will fill a container approximately the size of a standard can of veggies.)
Upcycled glass vases + seasonal greenery and florals
Bring a bottle of wine or bubbly to enjoy during this BYOB workshop
 ABOUT OUR HOSTS:
Milton and Margie's Soy Wax Candles creates handmade, 100% soy candles made in reused containers that smell great but are also sustainable. Beyond hand-poured, the upcycled containers are also hand-painted and the natural scents evoke the landscapes of the Midwest.
Indigo & Violet Studio is a Chicago-based venue for craft workshops, parties, and events, focusing on unique and modern handmade projects taught in a relaxed studio environment.
By registering for any event at indigo & violet studio you acknowledge that you have read and agree to our BYOB Disclaimer and the terms of service located 
here.