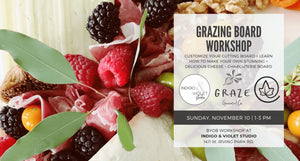 Grazing Board Workshop - Nov. 10
Hosting friends or family during the upcoming holidays? Let us help you wow your guests after this grazing board workshop!
Join Graze Gourmet Co. for a cheese board making workshop at Indigo & Violet Studio on Sunday, November 10th. During this interactive workshop, you'll learn all about putting together the perfect cheese and charcuterie platter for the holidays - from selecting cheeses to figuring out the best accompaniments, to learning how to arrange everything on a platter. Sampling is encouraged throughout the class and at the end of the workshop, you'll have a custom platter to take home with you that's perfect for two to four people.
All supplies will be provided, including all food, a small wood board to keep, and a box to take your platter home in. During the workshop, you'll also have the opportunity to customize your wood board using 
Indigo & Violet Studio
's wood-burning tools + branding stamps. The event is BYOB, so please feel free to bring your favorite wine or beverage to enjoy while you learn about the art of putting together the perfect cheese board!
Sunday, November 10, 2019 - 1-3pm at Indigo & Violet Studio - 1411 W. Irving Park Rd. Chicago, IL
What's included: 
wooden cutting board + wood-burning tools, stamps, and instruction
cheese + charcuterie selection to snack on + hands-on tips to create a board to serve 2-4 people to take home
the studio is BYOB if you want to bring your favorite beverage we'll serve them in beautiful Ivy Grapes glasses! alcohol will not be provided - BYOB only.
Tickets are non-refundable. By registering for any event at indigo & violet studio you acknowledge that you have read and agree to our BYOB Disclaimer and the terms of service located 
here.