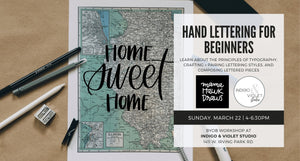 Hand Lettering Workshop - March 22
We're excited to host Mama Hawk Draws for two events while she's in Chicago! Join us for this one - a Hand Lettering for Beginners Workshop at Indigo & Violet Studio!
Whether you're a designer who wants to add something special to your next project or a beginner who wants to pick up a fun new hobby, this BYOB workshop is for you!
Join Mama Hawk Draws to explore the basics of hand lettering from the ground up. You'll learn the principles of typography, crafting and pairing different lettering styles, creating compositions, and other tips and tricks for creating beautiful type treatments all in a fun and relaxing atmosphere. By the end of the course, you'll have a solid foundation of knowledge and skills to create a custom hand-lettered Illinois map with the phrase "Home Sweet Home" for your home.
Space is limited to ensure there is time for personal instruction. Your ticket includes admission to the 2.5-hour workshop, 2 fancy pens to take home, worksheets to continue your practice at home, and a final project ready for framing. The class will be for beginners, but all skill levels are welcome.
Note: If you are attending with a friend(s) but purchasing your tickets separately, please include that in the notes with your order to ensure you are sitting together.
Sunday, March 22 - 4-6:30pm at Indigo & Violet Studio - 1411 W. Irving Park Rd.
About Mama Hawk Draws
Erin Hawkins, aka Mama Hawk, is a graphic designer and artist who specializes in hand lettering. Using mixed media and her fun, quirky vision, Erin works with clients to figure out the best way to tell their story, no matter how big or small.
Based in Macon, Georgia, Erin believes in the importance of community and finding the good in life. A small business owner herself, Erin has a special interest in supporting other women in work and play. And as a mom, she is passionate about exposing kids to art and how they can use it to impact their lives and society.

She shares her lettering work, including logos, murals, and products, on her Instagram, @mamahawkdraws.
By registering for any event at indigo & violet studio you acknowledge that you have read and agree to our BYOB Disclaimer and the terms of service located 
here.