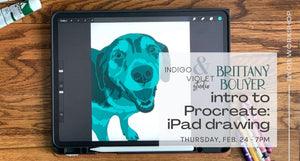 Intro to Procreate : iPad Drawing Workshop - Feb. 24
Join us for a digital drawing workshop with Brittany Bouyer!
In this workshop, you will learn how to draw digitally using the Procreate app for your IPad. We will walk through the basics in the app so you leave feeling comfortable and confident to start creating your own work! You will learn the main functions of the app by incorporating layers, creating color palettes, and adding texture to create your very own colorful pet portrait! Bookmark a digital photo of your favorite pet or animal on your iPad prior to class.
You will need an iPad, stylus (or apple pencil), and the latest version of the Procreate App.
You will be provided with style templates + color palettes to download prior to class.
Brittany's step by step instructions will be projected onto the wall for increased visibility.
Plus, you'll even be able to print your piece before you leave if you'd like to!
Share this link with a friend or gift a ticket to a loved one to create together. Brittany will also have a selection of beautiful art prints and stationery to purchase while we're in person together!
Thursday, February 24 - 7-9pm - 1411 W. Irving Park Rd.
Safety protocols:
Limit of 10 tickets available to allow for safe spacing
Masks and proof of vaccination are required for all attendees (photo, physical card, or digital health app will be accepted)
BYOB is allowed while seated
Please let us know if a friend also signs up - we'll make sure to sit you next to each other
Meet our instructor, Brittany Bouyer:
Brittany was born and raised in a small Ohio town but moved to Chicago in 2012. She resides in a traditional Chicago bungalow with her husband and border collie/beagle mix, Riley. In mid-2020, she started working full time as an independent artist specializing in illustration, watercolor, and surface pattern designs inspired by all things vintage with her modern twist. Her goal is to bring nostalgic emotions, a time travel into our life stories through her work and inspire others to live creative lives.
Brittany is passionate about a variety of causes across the globe by advocating for others, creating projects to spread awareness, and ensuring that her business uses every sustainable option possible! 
By registering for any event at indigo & violet studio you acknowledge that you have read and agree to our BYOB Disclaimer and the terms of service located 
here.