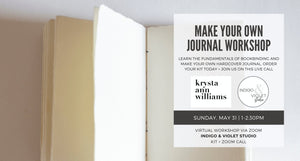 Make Your Own Journal Workshop - May 31
Join us for a virtual journal-making workshop with local bookbinder, Krysta Ann Williams!
In this virtual class, you will learn the fundamentals of bookbinding and create your own hardcover journal from start to finish. For this workshop, Krysta will be safely packaging kits with the materials you'll need. There are a few basic tools that you'll need to supply to complete this project - details are below.
Note: Krysta will be assembling papers from her personal collection. If you have any color preferences on a solid color for the book cloth and color/design preferences for the endsheets between marbled, floral, and Chiyogami (Japanese screen printed paper) please include at checkout. A few examples are included in photos at the footer of this page - blue + blue marble, green + yellow floral, etc. If no notes are left at checkout, Krysta will surprise you.
This project is great for all of us journaling, doodling, hand-lettering, and ready to learn a new skill in quarantined times. No experience required - make sure to share this link with your friends so you can craft together, yet apart.
Kits are no longer available to ship but can be picked up at Indigo & Violet Studio via free contactless pickup if ordered by Friday, May 29. We will follow-up after purchase to coordinate pickup windows on the 29th and 30th. Feel free to reach out with any questions.
Sunday, May 31, 2020 - 1-2:30pm CST  via zoom call (link to be sent approx. 24 hours prior to class).
Kits include:
Pre-cut and folded paper for your text block - the paper is white with a matte finish.

Book board and book cloth for the book cover
Headbands
waxed linen thread & binders needle
PVA glue
Bone folder
Tools & Supplies you will need:
exacto or utility knife
cutting mat
foam or stiff-bristled brush for glue
waste paper - magazine or newsprint can work, but other blank paper is nice
several heavy books or boards with c-clamps
Meet Krysta:
Krysta Ann Williams is an artist working in photography and bookbinding. She has lived and worked in Chicago since 2003 and takes much inspiration from the complexity, diversity, and beauty of the city. Krysta's earliest memories in life involve paper, glue, and dunking graham crackers in coffee at her grandparents' kitchen table, she has been prioritizing crafts and snacks in her life ever since.
ALL VIRTUAL EVENTS WILL COME WITH A 15% OFF COUPON FOR AN IN-PERSON EVENT WHEN WE RESUME IN-STUDIO EVENTS.
By registering for any event at indigo & violet studio you acknowledge that you have read and agree to our BYOB Disclaimer and the terms of service located 
here.