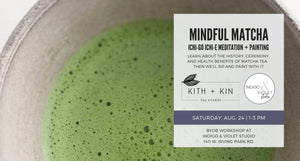 Mindful Matcha Workshop - Aug. 24
Join us for a mindful matcha | meditation + painting workshop with KITH + KIN.
Explore the concept of Ichi-go ichi-e, the concept of treasuring the unrepeatable nature of a moment. Romy from KITH + KIN Tea will guide us in a meditation that helps us cherish the present moment while we sip on fresh-made ceremonial matcha. We will then illustrate that moment though our own matcha watercolor rendition of what came up during our mindfulness meditation - all entirely painted with matcha, for a beautiful, ethereal green watercolor artwork. 
What's included: 
mindfulness meditation
hands-on matcha preparation + ceremony
the skills to incorporate this matcha practice into your own life
matcha painting materials and guided watercolor workshop
ONE LEFT - FREE blue and white matcha bowl with the next ticket purchased - grab your ticket and claim yours before they're gone
What to bring:
BYO matcha whisk and bowl so that you can continue your practice at home
If needed you can purchase both locally at Tea Gschwendner, DavidsTea, or Coffee and Tea Exchange
Saturday, August 24, 2019 - 1-3pm at Indigo & Violet Studio - 1411 W. Irving Park Rd. Chicago,IL
No meditation, tea, or painting experience required to enjoy the event. If you have any questions or want more info on matcha bowls - feel free to reach out to us here.
Tickets are non-refundable. By registering for any event at indigo & violet studio you acknowledge that you have read and agree to our BYOB Disclaimer and the terms of service located 
here.