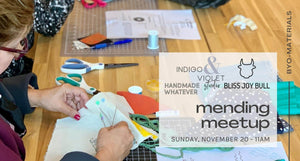 Mending Meetup - Nov. 20
Join us for the first of many mending meetups with Bliss Joy Bull at Indigo & Violet Studio!
Mend in community and whittle down that never-ending pile of clothes that need to be mended. Come meet and get to know fellow menders! Share your favorite technique for sewing on a button, adding an embroidered embellishment, or sock darning with other menders. Some repairs will benefit from using a sewing machine, we'll have at least one machine at the meet-up. Come spend some structured time to get those holey clothes mended!
While some tools and materials will be provided, we suggest bringing your favorite sewing kit from home. We'll have plenty of fabric scraps and embroidery floss to share. Even if you've never sewn before we can help guide you to repair your clothes. Come mend in community and get your holey clothes back in your wardrobe rotation.
Nandi will be available to share her favorite techniques for mending. A mending kit, sashiko thread, and/or thread snips can be added at checkout. 
When: Sunday, Nov. 20 - 11am-12:30pm
Where: Indigo & Violet Studio - 1411 W. Irving Park Rd.
More details and logistics:
BYOB drinks and snacks are welcome. We'll have water but please bring a reusable water bottle with you!
We will follow safety mandates at the time of the event - masks are not required at this time
Please continue to self-screen and contact us if you're sick or have had a Covid exposure leading up to the event
Up to 20 seats available
This month we'll also be doing a fabric swap!! 

Bring fabric, get fabric! 
Please bring clean fabric. No size or yardage limits.

Notions are welcome, yarn is welcome

If you're looking to offload your fabric and it doesn't get taken in the swap, the hosts are happy to accept it as a donation for the next swap or for another future fabric thrifting adventure.
Optional mending kit includes:
cotton fabric swatch for practicing
small cotton swatches for patching
cotton embroidery thread
cotton sashiko thread
5 sharp darning needles
6 straight pins
needle threader
If you've taken Nandi's visible mending workshop you'll have received this kit (sans thread snips).
Meet our mending partners!
Nandi started her business BLISS JOY BULL from a desire to reduce waste and use unwanted materials. In early 2021 Nandi started teaching sewing classes virtually. Over the years many people have come up to her during craft shows saying they don't even know how to sew on a button. With that in mind, along with the knowledge of overproduction, overconsumption, and lack of sewing skills, Nandi developed a visible mending class. Nandi strives to make sewing simple, bringing joy to the clothing we wear by making it last longer.
**Please note that the price may change for future meetups. We would love your feedback on how to make future Mending Meetups more successful. We're looking for the best fit for everyone involved! 
By registering for any event at indigo & violet studio you acknowledge that you have read and agree to our BYOB Disclaimer and the terms of service located 

here.