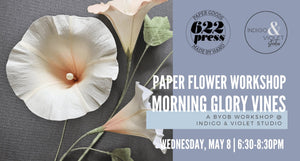 Morning Glory Vines with 622 Press - May 8
Join us for a paper flower workshop featuring 622 press at Indigo & Violet Studio - just in time to gift mom a handmade bouquet!
Learn to make an incredibly realistic morning glory vine in this intimate and hands-on workshop. You'll learn several methods for adding realistic coloration, how to manipulate the paper to mimic the texture of petals and leave with instructions you can use at home—along with a gorgeous botanical sculpture!
All levels are welcome at this BYOB workshop - bring a bottle of wine or bubbly to get the creative juices flowing.
Save $15 when you purchase tickets to both May 8 + May 14 Paper Flower Workshops.
Note: Parking will be very limited this evening due to residential parking restrictions. We recommend CTA, rideshare, or Spot Hero or Park Whiz to secure a parking spot if needed.
Wednesday, May 8 - 6:30 - 8:30pm @ Indigo & Violet Studio - 1411 W. Irving Park Rd.
About 622 press: 
622 press is the ultimate handmade boutique that opened in 2008 featuring letterpress goods printed on an antique printing press. The shop has since expanded into paper flowers, textiles, fine art and more and every piece is made by hand by Kristin Joiner with sustainable and locally sourced materials.
By registering for any event at indigo & violet studio you acknowledge that you have read and agree to our BYOB Disclaimer and the terms of service located 
here.