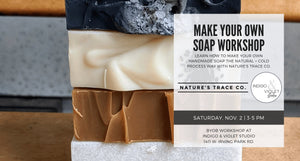 Soap Workshop with Nature's Trace Co. - Nov. 2
Join Nature's Trace Co. at Indigo & Violet Studio for a make your own cold-process soap workshop!
In this introduction to soap making, Rachel Sloan of Nature's Trace Co. will provide her soap "base", a proprietary blend of olive, rice bran, lard, coconut, sunflower and castor oils, carefully crafted to give you a soap that is long-lasting, won't dry out your skin, and has a lovely lather. You will design your own soap variety using natural, plant-based colorants and/or exfoliants, and create your own scent by blending essential oils. You'll learn about the basics of soap making and go home to impress your friends with a new word: Saponification! Cold process soap takes 30 days to cure but you'll be able to take home your 6 soap bars and finish the curing process at home. Keep the bars to spoil yourself or give them away as gifts!
Saturday, November 2, 2019 3 - 5 PM at Indigo & Violet Studio - 1411 W. Irving Park Rd. Chicago, IL
What to bring: Just yourself! No previous soap-making experience is necessary. The studio is BYOB - feel free to bring beer, wine, or bubbly - we'll have wine glasses and corkscrews.
About our Instructor: Rachel Sloan is the small-batch soap maker behind Nature's Trace Co. Growing up in rural Michigan, Rachel developed a deep love for all things outdoors. Her approach to designing soap is, "If it's outside and I can put it in soap, I will!" Her love of art and an ever-practical soul intersect to create something beautiful AND useful, with the intent of bringing the beauty of outside inside for everyday use. Inspired by her backyard apiary and garden, Rachel lives and makes on her micro-farm based in the Irving Park neighborhood of Chicago. For more information visit naturestraceco.com or follow Rachel on Instagram @naturestrace.
Tickets are non-refundable. By registering for any event at indigo & violet studio you acknowledge that you have read and agree to our BYOB Disclaimer and the terms of service located 
here.