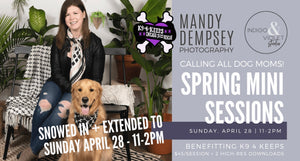 Extended - Spring Mini Sessions with Mandy Dempsey - April 28
We're extending Spring Mini Sessions after a snowy Saturday!
Did you miss our Spring Mini Sessions with Mandy Dempsey Photography today? Guess what, FOMO no more. We've decided to do a 3-hour block of mini sessions tomorrow, Sunday, April 28th! So, for all of you that had plans or just didn't want to get out in the snowy April weather, tomorrow is your last chance. BOOK NOW for times between 11-2pm.
Also, if you have a cat and would like to book, email us and we will find a time that works between doggos.
EXTENDED: Sunday, April 28, 2019 - 11am - 2pm - 1411 W. Irving Park Rd.
We're hosting Mandy Dempsey Photography for a spring photoshoot day at Indigo & Violet Studio! Bring your pup, your special someone, or the whole family to pose in front of our modern, handmade folded paper backdrop - scroll down to see the backdrop for yourself and plan your outfits accordingly. We don't need an occasion to document our furry friends but you'll have photos in your inbox before Mother's Day. Reserve your time slot today!
Each ticket includes all of the following:
A 5-minute mini session with Mandy in front of our modern and spring-inspired backdrop (scroll down to see it for yourself)
2 high-res digital downloads emailed by May 5, 2019
Donation to K9 4 Keeps
BY REGISTERING FOR ANY EVENT AT INDIGO & VIOLET STUDIO YOU ACKNOWLEDGE THAT YOU HAVE READ AND AGREE TO OUR BYOB DISCLAIMER AND THE TERMS OF SERVICE LOCATED 

HERE. TICKETS ARE NON-REFUNDABLE - CANCELLATIONS MADE MORE THAN 48 HOURS AHEAD WILL RECEIVE CREDIT FOR A FUTURE SHOOT WITH MANDY DEMPSEY.