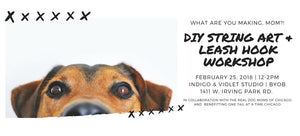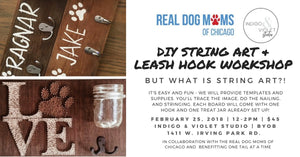 dog string art + leash hook workshop | Feb. 25
We're crafting with a cause! Join us for this collaboration with the Real Dog Moms of Chicago in a workshop benefitting One Tail at a Time Chicago.
Join us for this string art + leash hook workshop @ indigo & violet studio. We're a BYOB studio taking the guesswork out of DIY crafts. But what is string art?! What's included?! 
No drawing or crafting experience necessary! String art is easy and fun - we will provide dog-themed templates and all supplies necessary. You'll trace your selected image on to a reclaimed wood plank, do the nailing, and stringing. Each board will come with one leash hook and one treat jar already set up! 
Have a specific image in mind or favorite breed?! Email a photo of your dog or your dog-themed request to leigh@indigoandvioletstudio.com after you've registered and we will have that image ready for you the day of the workshop!
By registering for any event at indigo & violet studio you acknowledge that you have read and agree to our BYOB disclaimer and the terms of service located 

here.