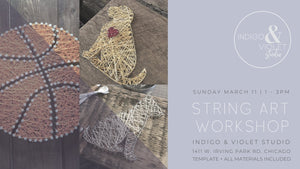 String Art Workshop - March 11
MARCH IS HERE. MARCH MADNESS IS ALMOST HERE. 

We're excited to host another string art workshop - this one is not limited to dog themes! Common themes are sports teams, mascots, initials and last names, pets, Chicago flags, and states. 
But what is string art?! No drawing or crafting experience necessary! String art is easy and fun - we will provide templates and all supplies necessary. You'll use your template and nail around it then use colored string to weave the string around the nails. 
What's included:
1 - 8"x16" reclaimed board (various colors as they're all salvaged)
1 - printed template (we will follow up with your order to arrange)
Colored string
Nails + hammer
BY REGISTERING FOR ANY EVENT AT INDIGO & VIOLET STUDIO YOU ACKNOWLEDGE THAT YOU HAVE READ AND AGREE TO OUR BYOB DISCLAIMER AND THE TERMS OF SERVICE LOCATED 
HERE.