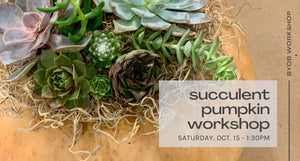 Succulent Pumpkin Workshop - Oct. 15
Pumpkins + plants - two of our favorite things!
Join us for a festive succulent pumpkin project complete with real succulents! These are succulent cuttings that will decorate your pumpkin for the season and then take root and continue to live on long past the fall.
All materials and tools will be provided. We have two different pumpkin size options - you're also welcome to bring your own pumpkin if you'd like!
This workshop is great for all - plant lovers, fall enthusiasts, and everyone one in between. We will provide hands-on instruction, succulent care instructions, and a handout to refer to when your pumpkin starts to bite the dust! Share this link with your crafty friends and don't forget to bring snacks or beverages to enjoy during this BYOB class.
Saturday, October 15 - 1:30-3pm at Indigo & Violet Studio - 1411 W. Irving Park Rd.
Here's what each project will include:
pumpkin
moss
variety of succulent shapes and sizes
please note pumpkin size corresponds to the succulent quantity

small = under 6" pie pumpkin size + up to 10 plants
large = 6-12" pumpkin or mushroom gourd + up to 16 plants
More info + safety protocols:
We will follow local safety mandates at the time of the event - masks not currently required
Up to 10 tickets for this one 

BYOB beer, wine, or snacks are welcome
Please let us know in the notes of your ticket if a friend or two also signs up - we'll adjust seating and spacing ahead of time
**NEW, NEW** Do you have a perfect pumpkin already?! Bring it! Not for this project but do you have yarn collecting dust in a craft bin?! Don't go out and buy anything new - we have plenty but we are piloting a program to accept BYO materials. Yarn is often made of acrylic aka plastic so we try not to buy new. BYO materials and we'll share a coupon for a future workshop!
**NOT NEW** Just a reminder you can turn most workshops into a private event with friends, colleagues, or clients! Inquire today about a craft celebration for an upcoming birthday, shower, or team activity.
WORKSHOP TICKETS ARE NONREFUNDABLE. IF NECESSARY, YOU CAN TRANSFER YOUR TICKET TO SOMEONE ELSE'S NAME. 
By registering for any event at indigo & violet studio you acknowledge that you have read and agree to our BYOB Disclaimer and the terms of service located 
here.