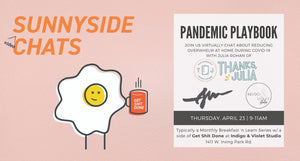 Sunnyside Chats : Pandemic Playbook - April 23
Rise and shine on the sunny side! We're taking Sunnyside Chats virtual.
After our last de-stressing chat, Julia Rohan of Thanks, Julia will be teaching from her Pandemic Playbook—we'll learn what to deprioritize, create routine and predictability over rigid scheduling, and we'll learn some of Julia's self-care tips and coping skills. If you're feeling good and ready to start getting back to it, this virtual chat is for you!
Ticket sales for this virtual chat will 100% go to support the Greater Chicago Food Depository. Our plan is to keep these coming every two weeks on Thursdays until we can meet in person again.
Thursday, April 23 - 9am-11am via ZOOM call - link will be sent out on the 22nd with any handouts if applicable
About Thanks, Julia
Thanks, Julia is a household project manager who serves working people that feel overwhelmed by day-to-day life. They're so busy trying to get everything done that they worry they're missing out on what's really important. Thanks, Julia helps them get support and become more efficient with daily tasks so they can relax and be present for those they love most.
What's included - what should I bring?!
$10 ticket includes virtual call and donation to the Greater Chicago Food Depository
BYO-coffee and breakfast - if you can support a local restaurant with a takeout order we've compiled some of our favorites on our @sunnysidechats instagram stories

Limited seats available to ensure one-on-one feedback
What makes this different than another business workshop?!

 

Action and accountability.

 

How many times have you attended a great workshop only to get distracted and baffled when you try to apply what you learned to your own business?! Not here - we're here to

 

Get Shit Done. Sunnyside Chats is co-hosted by Andi Mints Design and Indigo & Violet Studio. 
TICKETS ARE NON-REFUNDABLE BUT TRANSFERRABLE TO A FRIEND. BY REGISTERING FOR ANY EVENT AT INDIGO & VIOLET STUDIO YOU ACKNOWLEDGE THAT YOU HAVE READ AND AGREE TO OUR BYOB DISCLAIMER AND THE TERMS OF SERVICE LOCATED 

HERE.