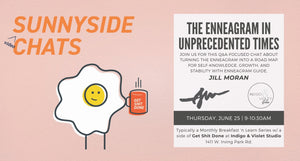 Sunnyside Chats : Enneagram in Unprecedented Times - June 25
Rise and shine on the sunny side! We're taking Sunnyside Chats virtual.
Waking up to parts inside of yourself often happens when things get hard. Has anyone else noticed an awakening of fearful, angry, or shameful parts during this pandemic? Great news! We can turn to the enneagram as a road map for self-knowledge, growth, and stability especially in times of turmoil.
Enneagram Guide, Jill Moran, will lead us through what our enneagram numbers can look like in times of stress, what specific tendencies and patterns we may be facing, and how to utilize your specific strengths and gifts to get us through. Q + A will play a major role in this Sunnyside so come with your enneagram Q's ready! We'll also be sending a link out prior to our chat to submit questions ahead of time.
This conversation will focus on creating deeper compassion for ourselves and others and in a safe space for each Type to feel seen, understood, and valued. We recommend coming to this chat already having a solid idea of your Type - read more on the Nine Types at www.enneagraminstitute.com.
Thursday, May 25 - 9am-10:30am via ZOOM call - link will be sent out on the 24th with any handouts if applicable
Ticket sales for this virtual chat will 100% go to support My Block My Hood My City small business relief fund. Our plan is to keep these coming two Thursdays/month until we can meet in person again.
About Jillian Moran:
Jill is a perspective junky, leading her curiosity to a deeper knowledge of why we humans are the way they are. Jill's fascination and compassion fuel her as a practicing Enneagram Guide, determined to allow her clients to find deeper meaning and live a love-lead life of wholeness. Jill is also the Co-Founder and Teacher of Interior Rising, Enneagram Events in Logan Square. When Jill isn't talking enneagram, you can find her writing, researching psychology, theologies, or listening to a trashy Podcast on The Bachelor (perspective junky, remember?). Say hi on instagram at @jillthehuman__.

What's included - what should I bring?!
We recommend coming to this chat already having a solid idea of your Type. Learn more via www.enneagraminstitute.com
$10 ticket includes virtual call and 100% will be donated to the My Block My Hood My City

 small business relief fund

Limited seats to ensure one-on-one feedback
What makes this different than another business workshop?!

 

Action and accountability.

 

How many times have you attended a great workshop only to get distracted and baffled when you try to apply what you learned to your own business?! Not here - we're here to

 

Get Shit Done. Sunnyside Chats is co-hosted by Andi Mints Design and Indigo & Violet Studio. 
TICKETS ARE NON-REFUNDABLE BUT TRANSFERRABLE TO A FRIEND. BY REGISTERING FOR ANY EVENT AT INDIGO & VIOLET STUDIO YOU ACKNOWLEDGE THAT YOU HAVE READ AND AGREE TO OUR BYOB DISCLAIMER AND THE TERMS OF SERVICE LOCATED 

HERE.