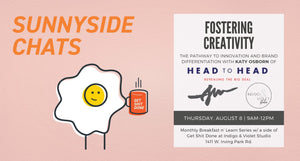 Sunnyside Chats : Fostering Creativity - August 8
Rise and shine on the sunny side! Sunnyside Chats is a monthly breakfast + learn series with a side of get shit done.
Join us for the third event in our Sunnyside Chat series. We will be rotating through a variety of business and personal development topics in the format of monthly meetups. The structure of the event will be a workshop or short lecture by a fellow small business owner, followed by time to work on that topic and get actionable feedback from an expert and other attendees in the room.
Creativity is a critical skill for innovating, collaborating, problem-solving and making your brand stand out. Luckily, anyone can learn to be more creative and foster creativity in others. This session will teach you the best environment and mindset to spur creativity and three easy principles to optimize it. This workshop, led by Katy Osborn, will be a combination of presentation, interactive exercises, hands-on creative practice and group feedback.
Katy Osborn is a 13-year veteran of the branding, advertising, and marketing industry. She co-owned the creative agency, Amelia Street Studio, for 6 years and now partners with the
Curmudgeon Group
agency on brand strategy. Katy is currently producing an independent documentary,
Head to Head
, about the human hair industry and women with hair loss. Katy manages the business development, marketing strategy and creative execution for the film.
.
Thursday, August 8 - 9am-12pm @ Indigo & Violet Studio - 1411 W. Irving Park Rd.
9-9:40am Networking + Breakfast + Creativity Warm-up with Watercolor
9:40-10:45am Presentation + Workshop - Fostering Creativity: the pathway to innovation and brand differentiation
10:45-11am Watercolor Reprise + Q&A
11-12pm Get Shit Done Time - put to practice what you just learned, work with the lecturer to make a plan, or collab with fellow eggmates.
What's included:
$20 ticket includes the entire 9am-12pm event

Bring a creative problem you're looking to work through, charged laptop, and business cards - wifi will be provided
Breakfast bites, coffee, and tea will be provided by Laura of Page & Plate

Limited seats available to ensure one-on-one feedback
What makes this different than another business workshop?! Action and accountability. How many times have you attended a great workshop only to get distracted and baffled when you try to apply what you learned to your own business?! Not here - we're here to Get Shit Done.
TICKETS ARE NON-REFUNDABLE BUT TRANSFERRABLE TO A FRIEND. BY REGISTERING FOR ANY EVENT AT INDIGO & VIOLET STUDIO YOU ACKNOWLEDGE THAT YOU HAVE READ AND AGREE TO OUR BYOB DISCLAIMER AND THE TERMS OF SERVICE LOCATED 
HERE.