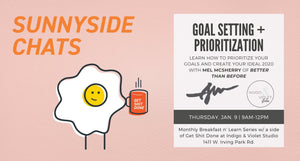 Sunnyside Chats : Goal Setting + Prioritization - Jan. 9
Rise and shine on the sunny side! Sunnyside Chats is a monthly breakfast + learn series with a side of get shit done.
"A goal without a plan is just a wish." A new year is coming and, with it, visions of what you want to accomplish. Call them resolutions, call them goals, we like to call them Priorities.
It is so easy to say what we want, however, creating the boundaries to prioritize what we want every day is a bit of a different story. Together we will discover your Priorities for 2020, define your boundaries, and create a plan of action with you, and your goals, at the forefront!
Mel McSherry is an International Business Development Coach and Speaker. As an entrepreneur since 2010, Mel has launched two successful businesses, tripled her annual income, and become an Amazon Best Selling author, all while raising an eight-year-old son. She has worked with thousands of people, slashing their stress by showing them how to prioritize their time, their profit avenues, and themselves correctly to create the business, money, and life they want.

Thursday, January 9 - 9am-12pm @ Indigo & Violet Studio - 1411 W. Irving Park Rd.
9-9:30am Breakfast & Networking
9:30-9:45am Introductions
9:45-11:00 Workshop 
11:00-12:00 Q&A & Get Shit Done Time - put to practice what you just learned, work with the lecturer to make a plan, or collab with fellow eggmates
What's included - what should I bring?!
$25 ticket includes the event + breakfast + eggy sticker and button SWAG

$20 ticket includes the event + breakfast

Breakfast will be provided by Baguette & Butter - check out Amanda McLemore's sustainable food advocacy, journal, and recipes on her website. Please let us know of any food allergies when purchasing your ticket. Coffee and tea will also be served
Bring business cards and a notebook or charged laptop to take notes

Limited seats available to ensure one-on-one feedback
What makes this different than another business workshop?!

 

Action and accountability.

 

How many times have you attended a great workshop only to get distracted and baffled when you try to apply what you learned to your own business?! Not here - we're here to

 

Get Shit Done. Sunnyside Chats is co-hosted by Andi Mints Design and Indigo & Violet Studio. 
TICKETS ARE NON-REFUNDABLE BUT TRANSFERRABLE TO A FRIEND. BY REGISTERING FOR ANY EVENT AT INDIGO & VIOLET STUDIO YOU ACKNOWLEDGE THAT YOU HAVE READ AND AGREE TO OUR BYOB DISCLAIMER AND THE TERMS OF SERVICE LOCATED 

HERE.