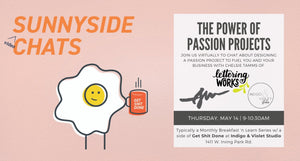 Sunnyside Chats : The Power of Passion Projects - May 14
Rise and shine on the sunny side! We're taking Sunnyside Chats virtual.
If you've ever been to a Sunnyside Chat, you've likely met the incredibly talented designer and illustrator Chelsie Tamms. Her secret sauce? Passion projects. Chelsie joins us as a speaker to show us how to design a project around your interests that can help shape your business' future. We'll chat about 5 unexpected results of passion projects and you don't have to be a graphic designer to get something out of this chat! All business types welcome.
Ticket sales for this virtual chat will 100% go to support the Greater Chicago Food Depository. Our plan is to keep these coming two Thursdays/ month until we can meet in person again.
Thursday, May 14 - 9am-10:30am via ZOOM call
Note: link will be sent out on the 13th with any handouts if applicable
About Chelsie Tamms and Lettering Works:
Artist and strategist is a rare combination, but one that serves Lettering Works well. Chelsie Tamms is an award-winning lettering artist and designer based out of Chicago. She is the owner of Lettering Works, a branding studio that connects businesses to their audience through creativity and strategy. With over 10 years of practice of lettering and design, Chelsie is passionate about craft and intention. When she's not designing, she can be found eating ice cream, traveling internationally, or starting a new passion project - like her latest, Cool Beans.
What's included - what should I bring?!
$10 ticket includes virtual call and donation to the Greater Chicago Food Depository
BYO-coffee and breakfast - if you can support a local restaurant with a takeout order we've compiled some of our favorites on our @sunnysidechats instagram stories

Limited seats available to ensure one-on-one feedback
What makes this different than another business workshop?!

 

Action and accountability.

 

How many times have you attended a great workshop only to get distracted and baffled when you try to apply what you learned to your own business?! Not here - we're here to

 

Get Shit Done. Sunnyside Chats is co-hosted by Andi Mints Design and Indigo & Violet Studio. 
TICKETS ARE NON-REFUNDABLE BUT TRANSFERRABLE TO A FRIEND. BY REGISTERING FOR ANY EVENT AT INDIGO & VIOLET STUDIO YOU ACKNOWLEDGE THAT YOU HAVE READ AND AGREE TO OUR BYOB DISCLAIMER AND THE TERMS OF SERVICE LOCATED 

HERE.