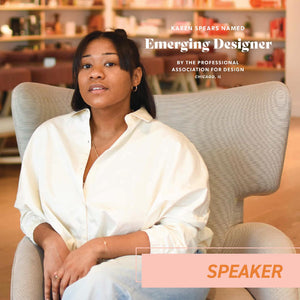 Sunnyside Chats : Mind Mapping 101 - Feb. 11
Rise and shine on the sunnyside! We're taking Sunnyside Chats virtual.
Topic: Mind Mapping
Date: Feb. 11 @ 9-11:30AM CST, Zoom
Speaker: Karen Spears of Kareracter Studio
Are you feeling stuck, uninspired, or overwhelmed this season? Join us for Mind-Mapping 101 with Kareracter. Mind-mapping is a type of creative brainstorming process to help you go from creative idling to creative ideating.
Karen Spears, founder of Kareracter (pronounced character) will walk us through the techniques and benefits of mind-mapping. We will even draw out a mind-map during the workshop. Come ready to get those creative juices flowing!
Tickets are only $15 and all proceeds will go straight to My Block My Hood My City, a Chicago nonprofit organization that provides underprivileged youth with an awareness of the world and opportunities beyond their neighborhood.
Grab your ticket today! We limit seats to keep things intimate.
Meet Karen Spears:
Karen Spears is the founder of Kareracter. Her life's work is centered around creating a world of possibility for women in design and entrepreneurship. Growing up on the Southside of Chicago, I was known as the girl with neat hand-writing. It wasn't until high school that she learned that writing inspirational quotes to my friends would lead her down a path of creative entrepreneurship. During her sophomore year in college, she taught herself how to digitize her handwriting and developed Kareracter, a graphic design studio where we helped budding business owners build their brands with personality. They take a human-centric approach when working with our clients and leverage mind-mapping to help clients develop a beautiful, yet functional visual identity. They also teach the everyday dreamer to organize their ideas, build a signature brand, and develop their business through mind-mapping.
Karen is an alumna of the University of Missouri with a Bachelor's Degree in Communications and a minor in Business. She's had the privilege of working for Google & Leo Burnett and served as a programming advisor for the Obama Foundation. In 2018, she was named Emerging Designer by the Professional Association of Design in Chicago, IL.
We're meeting virtually, once month and have enjoyed chatting with attendees all over the world. We're committed to our small business community and GETTING SHIT DONE. Join us! Sunnyside Chats is co-hosted by Andi Mints Design and Indigo & Violet Studio.
TICKETS ARE NON-REFUNDABLE BUT TRANSFERRABLE TO A FRIEND. BY REGISTERING FOR ANY EVENT AT INDIGO & VIOLET STUDIO YOU ACKNOWLEDGE THAT YOU HAVE READ AND AGREE TO OUR TERMS OF SERVICE LOCATED 

HERE AND YOUR EMAIL MAY BE SHARED WITH ANY COLLABORATORS ON THIS SPECIFIC EVENT.