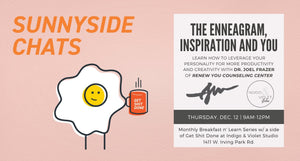 Sunnyside Chats : The Enneagram, Inspiration and You - Dec. 12
Rise and shine on the sunny side! Sunnyside Chats is a monthly breakfast + learn series with a side of get shit done.
This workshop will present a brief introduction to the Enneagram—a hybrid model of the human psyche. We'll learn the nine types our personalities can be placed within this anciently-rooted, yet modernized system. The goals of this workshop are to help us move toward identifying our number and understand the patterns of how we approach people and situations within our own businesses. We'll also learn about the Triads, which assist us in understanding where we, and those we work with, may unknowingly stand. Whether you are familiar with the Enneagram or not, join us for an enlightening workshop filled with self-discovery and interpersonal work.

Dr. Joel Frazer is currently a post-doctorate clinician at Renew You Counseling Center after earning a doctorate from the Chicago School of Professional Psychology in 2019. Joel describes himself as the curious and intuitive type with an immense love of the arts: visual, written and music. His goal from an early age has been to create beautiful things and help those around him in doing so as well and his combined study of the arts and psychology allows him to do just that. Learn more about Dr. Joel Frazer's specialties and treatment approaches here.
Thursday, December 12 - 9am-12pm @ Indigo & Violet Studio - 1411 W. Irving Park Rd.
9-9:30am Breakfast & Networking
9:30-9:45am Introductions
9:45-11:00 Workshop 
11:00-12:00 Q&A & Get Shit Done Time - put to practice what you just learned, work with the lecturer to make a plan, or collab with fellow eggmates
What's included - what should I bring?!
$25 ticket includes the event + breakfast + eggy sticker and button SWAG

$20 ticket includes the event + breakfast

Breakfast will be provided by Black Cat Kitchen. Please let us know of any food allergies when purchasing your ticket. Coffee and tea will also be served
Bring business cards and a notebook or charged laptop to take notes

Limited seats available to ensure one-on-one feedback
What makes this different than another business workshop?!

 

Action and accountability.

 

How many times have you attended a great workshop only to get distracted and baffled when you try to apply what you learned to your own business?! Not here - we're here to

 

Get Shit Done. Sunnyside Chats is co-hosted by Andi Mints Design and Indigo & Violet Studio. 
TICKETS ARE NON-REFUNDABLE BUT TRANSFERRABLE TO A FRIEND. BY REGISTERING FOR ANY EVENT AT INDIGO & VIOLET STUDIO YOU ACKNOWLEDGE THAT YOU HAVE READ AND AGREE TO OUR BYOB DISCLAIMER AND THE TERMS OF SERVICE LOCATED 

HERE.