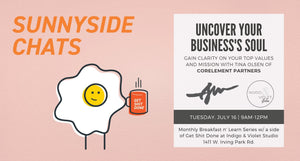 Sunnyside Chats : Uncover Your Business's Soul - July 16
Rise and shine on the sunny side! Sunnyside Chats is a monthly breakfast + learn series with a side of get shit done.
Note: Our July 11th event has been canceled and replaced by this event on July 16. We will dig into Time Management in a future Sunnyside Chat!
Join us for the second event in our Sunnyside Chat series. We will be rotating through a variety of business and personal development topics in the format of monthly meetups. The structure of the event will be a workshop or short lecture by a fellow small business owner, followed by time to work on that topic and get actionable feedback from an expert and other attendees in the room.
In this workshop with Tina Olsen, you will discover the true purpose behind why you are doing what you do. You'll gain clarity on your top values and the mission that drives your work. We will meditate and gain insight from all of the unseen forces that are helping you create. We'll also connect the dots of how to use your business' soul insights to make tangible decisions in your everyday work. Leave feeling clear, confident and supported in the next steps of your creation.
Tina Olsen is a Certified Professional Coach, Energy Intuitive, and Channel whose mission is to be a beacon of unconditional love. She co-runs CORelement, a consultancy focused on co-creating conscious cultures within organizations in the scale-up phase. Through the experience of co-founding an intentional business, she's learned first hand the importance of mission and values as foundational elements on which to build a sustainable, conscious company.
Thursday, July 16 - 9am-12pm @ Indigo & Violet Studio - 1411 W. Irving Park Rd.
9-9:30am Networking + Breakfast
9:30-10am Lecture/Workshop - Uncover Your Business's Soul - Values + Mission
10-10:30am Q+A
10:30-12pm Get Shit Done Time - put to practice what you just learned, work with the lecturer to make a plan, or collab with fellow eggmates.
What's included in every ticket:
$20 ticket includes the entire 9am-12pm event

Breakfast bites, coffee, tea, and water will be provided
Wifi will be provided - bring a charged laptop
Also bring any digital or paper planners, calendars, or existing productivity apps with you

Limited seats available to ensure one-on-one feedback
What makes this different than another business workshop?! Action and accountability. How many times have you attended a great workshop only to get distracted and baffled when you try to apply what you learned to your own business?! Not here - we're here to Get Shit Done.
BY REGISTERING FOR ANY EVENT AT INDIGO & VIOLET STUDIO YOU ACKNOWLEDGE THAT YOU HAVE READ AND AGREE TO OUR BYOB DISCLAIMER AND THE TERMS OF SERVICE LOCATED 
HERE.