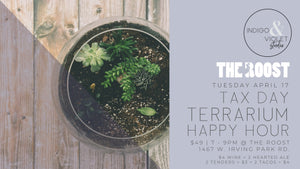 Terrariums + Tax Day Tacos @ the Roost - April 17
Indigo & Violet Studio is back at The Roost for another Tuesday Happy Hour on April 17!
So we're sprucing up Tax Day this year and making Terrariums at The Roost Carolina Kitchen. No green thumb required for this workshop - succulents and air plants are beautiful AND low-maintenance!
What's included: 
round glass terrarium bowl
variety of succulents and air plants
rocks, sand, and soil
accessories - shells, crystals, and figurines 
Food and drinks are purchased separately from your workshop ticket. Please arrive by 7pm to place food and drink orders prior to the workshop demonstration that will commence at 7:15pm.
BY REGISTERING FOR ANY EVENT BY INDIGO & VIOLET STUDIO YOU ACKNOWLEDGE THAT YOU HAVE READ AND AGREE TO OUR TERMS OF SERVICE LOCATED 

HERE.