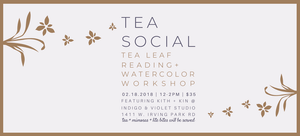 Tea Social : Tea Leaf Reading + Watercolor Workshop - Feb. 18
Please join us as we host Romy Pereira from KITH + KIN at Indigo & Violet Studio for a Tea Leaf Reading and Watercolor Workshop.
We will start our workshop with a mini tea party complete with mimosas and tea sandwiches as we learn about the gypsy tradition of Tasseography. We will then perform the ritual of reading our own tea, after which, our very own Leigh Hardy will walk us through a gorgeous watercolor exercise inspired by our fortunes. What a treat! Bring your intuition, a thoughtful question for your tea, and a tea-loving friend! 
What's included:
tea + tea sandwiches
tea reading
watercolor demo + supplies
new friendships!
By registering for any event at indigo & violet studio you acknowledge that you have read and agree to our BYOB disclaimer and the terms of service located 
here.