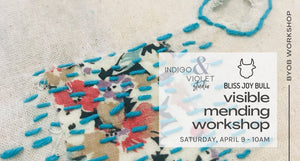 Visible Mending Workshop - April 9
Join us for a visible mending workshop with Nandi of Bliss Joy Bull!
In this mending workshop, you'll learn the basics of visible mending to take sustainability into your own hands and make your clothes last longer! You'll get hands-on skills for mending your clothes. This workshop combines hand embroidery and sashiko techniques. This is an introductory class to hand sewing and visible mending. Even if you've never sewn before you'll walk away with a mending sampler that you can refer back to again and again.
Share this link with a friend or gift a ticket to a loved one to create together. We're excited to celebrate Earth Month with this workshop.
Feel free to bring an item or two with you if you have a mending project already in mind
Nandi will have a display of her sustainable and handmade bags and accessories - shop and save 15% off while we're in person together!
Saturday, April 9 - 10am-12pm in-person @ Indigo & Violet Studio - 1411 W. Irving Park Rd.
Updated safety protocols for events starting April 1:
Limit of 12 tickets available to allow for spacing
We will follow local and state safety mandates at the time of the event
Please continue to self-screen and contact us if you're sick or have had a Covid exposure leading up to the event
Guests are welcome to BYOB (drinks or snacks) while seated
Please let us know if a friend also signs up - we'll make sure to sit you next to each other
Meet our instructor, Nandi Duszynski:
Nandi got her start in designing and crafting at a young age. She attended design school at Iowa State University and completed her degree in fashion design at the Art Institute of NYC. Nandi moved back to the midwest after 4 years in New York, and has lived in Chicago since 2015.
Nandi started her business BLISS JOY BULL from a desire to reduce waste and use unwanted materials. In early 2021 Nandi started teaching sewing classes virtually. Over the years many people have come up to her during craft shows saying they don't even know how to sew on a button. With that in mind, along with the knowledge of overproduction, overconsumption, and lack of sewing skills, Nandi developed a visible mending class. Nandi strives to make sewing simple, bringing joy to the clothing we wear by making it last longer. 

By registering for any event at indigo & violet studio you acknowledge that you have read and agree to our BYOB Disclaimer and the terms of service located 
here.