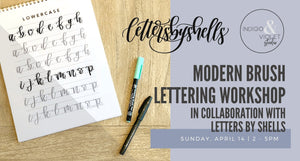 Modern Brush Lettering Workshop - April 14
Letters by Shells is visiting Chicago for just two workshops. We're thrilled to host Shelly at Indigo & Violet Studio!
Sunday, April 14 - 2 - 5pm @ Indigo & Violet Studio - 1411 W. Irving Park Rd.
During this 3-hour BYOB workshop, you will not only learn the basics of modern brush lettering, but the following topics will also be covered:
Ways to hold your brush pen

Differing pressure levels

Differences between brush pens

Common practice drills

What is fauxcalligraphy?

Connecting letters

Guidance on achieving bouncy lettering

Guidance on achieving different styles
The overall purpose of this workshop is to feel confident practicing Modern Brush Lettering at home using all the information and tools given.
As a class, we will be able to practice a few uppercase and lowercase letters by breaking down the connections of each letter in a word. Together, we will be writing words such as "hello" and "love."
This workshop includes all the materials needed to get started, including:
Brush Pen Set (Each brush pen is hand-picked and will serve a different purpose)

50+ Page Workbook: (includes- Alphabet Sheet Guide, Outline of the basics, practice sheets for both uppercase & lowercase letters, tips and techniques)

Lettering Paper

Small Gift along with a Personalized Name Tag

Lifetime access to digital downloads, practice sheets, and resources
This workshop is all about having fun while learning the beauty of Modern Brush Lettering! I have tailored this workshop for you to not only learn a new hobby but to also discover your own creative side! This workshop requires no prior experience in calligraphy or lettering. Let's all just use this time to relax, learn, and letter with good company!
About Letters by Shells: 
"I'm Shelly! I am a self-taught Modern Brush Calligrapher based in the SoCal area. On the weekends, I enjoy hosting workshops
in the OC & LA area to teach others the beauty of Modern Brush Lettering! Lettering to me goes way beyond exploring my creativity. For me, it creates an open, positive, and free outlet that I would love for others to join in on with me."
Learn more about Letters by Shells and follow her on Instagram @lettersbyshells.
By registering for any event at indigo & violet studio you acknowledge that you have read and agree to our BYOB Disclaimer and the terms of service located 
here.